18/5/17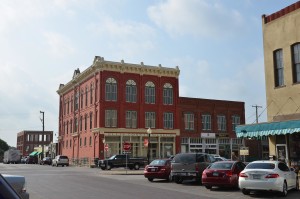 Up at a reasonable hour and off for Houston and the Gulf (actually we are planning to stay on the Gulf at Galveston tonight and tomorrow night). Drive out of Dallas was fairly unremarkable.. traffic was heavy but flowing + as long as you have your wits about you (which exit to take/entry point for freeway) navigating through a US city isn't hard.. On this trip I've heard a few tourists moaning about how many fly overs/ and up ramps etc there are in Texas but as long as you keep your eyes well open and pay close attention to where you need to go it really isn't that hard to get around.
First stop on our drive south was Waxahachie. Waxahachie isn't far out of Dallas and according to the guide book is a town of "quaint, Victorian/ Queen Anne architecture" and worth a "stop on the way out of Dallas". Well.. it did have an quaint main square and some nice buildings but was another really underwhelming little town. We did do a wander around (more to stretch the legs than any other reason) but with the whole town closed til 10am there wasn't much to look at other than facades.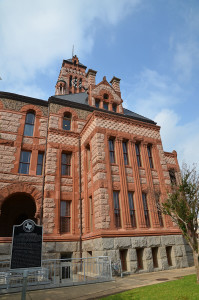 From Waxahachie we got ourselves onto the I45 southbound and headed for Houston. Next break was a highway rest stop right near Corsican. Corsican was the first town to literally "strike oil" after the town decided to start drilling for water due to a water shortage. No water was found but within a year every house in the town had an oil derrick all pumping from the same oil well. Well over a 100 yrs later and that same oil well is still producing oil. Insane-o. We also worked out today that we aren't likely to see the traditional oil derricks here in Texas—new technology means no more need for the see-saw style.. Bummer.. all along, I've been crowing about the fact that I can't see oil derricks and I've probably seen hundreds!
We veered off the highway not far past Corsican and headed east towards Crocket. We couldn't go past checking out a town named for such an infamous American character. Well the town wasn't a lot to write home about but the drive to and from the town was worth it! This part of Texas is covered in pine forests! Very reminiscent of driving through Kentucky or West Virginia…. And who would have thought you could see that type of landscape in the middle of the country? Landscape was very lush and green with big pine tree plantations covering the ground. A really super drive through a beautiful countryside. On arriving into Crocket we went to the supermarket to grab ourselves some bbq foodstuffs- its about time we had some steak in the home of beef steak! It was another windy lunch affair—more protecting of food—and before we knew it our bbq was cooked and consumed and we were back on the road heading south west for Houston.
Drive into Houston was very uneventful and the drive around town was also pretty straightforward. Apparently there is a fly over intersection here that has to be seen to be believed.. we didn't see it so here's hoping before we leave the area we get a chance to see a whopper. We hit Houston right on 4 and it only took us an hour to get to the southern side of the city and into Galveston. Like I said we were pretty fortunate to have such a good run through.
I've been thinking about Galveston since before I left home.. I have such great memories of the gulf coast from my last visit (Florida pan-handle, Alabama + Louisiana coast line… such great memories) and I was super keen to get back to the gulf again. So on arrival onto Galveston Island, we found ourselves a place to base ourselves and went looking for amazing seafood. I went for ever trusty TripAdvisor and found the #3 seafood place just down the road… So down we trundled, past the pier amusement park (I love cities that still have the amusement rides on the pier) and to the Blvd Seafood Restaurant… The talk on TripAdvisor had been "I had tears running down my face at the taste of the seafood chowder" "the crab bites are to die for" etc etc so I was expecting big time………. And….. I was disappointed. Actually, I did something I do rarely and complained about the quality. Scallops were overcooked, crab meat was super salty + seafood chowder was average to be nice. So first crack at seafood and I've been let down significantly. I will not be deterred.. Seafood on the gulf coast was incredible five years ago so I've just got to look hard and I'll find amazing again.