19/5/17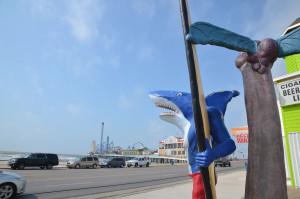 Breakfast was a home spun affair this morning. No breakfast included at the hotel we are staying at here in Galveston. Our day to day consists of driving around looking at the island of Galveston + its surrounding bayous so should be a great day out in the sunshine.. Well, that was the plan. In actuality the sky is fairly cloudy today and the wind is continuing to blow a gale. In fact, the wind is blowing so hard that the car is covered in salt and sand this morning! Its gorgeously warm + humid though so I'm pretty happy even with a gale force wind.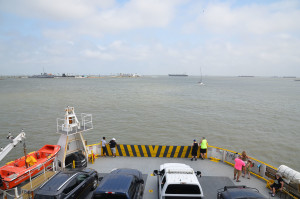 First stop was to drive to the top of the island and catch the ferry over to Port Bolivar. Originally, the thinking was that we would go and checkout the crab festival (that we'd found mentioned in one of the pamphlets we picked up along the way)—we found that we were in the town on the wrong weekend so no crabs but we still decided it was worth going on a ferry boat ride. There aren't too many places in AU where it easy to catch a car ferry so whenever you can I'm generally in. I was a little apprehensive about the trip across the mouth of the Bay of Galveston with the wind blowing but I didn't need to be.. A bit of a swell but the boat is so heavy with trucks and cars that there was no sea sickness! We went up to the top deck to as we left Galveston and it was a gorgeous trip across the bay watching dolphins swim and pelicans dive.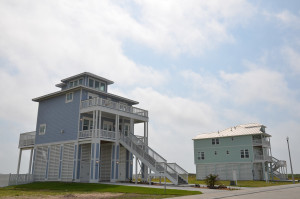 On the other side we saw a bit more of the same.. Galveston is very Florida-esque. Similar architecture- houses built on stilts to keep them up out of the tidal surges and painted bright pastel colours—some are a bit too bright.. I mean sunshine yellow or aqua green (I even saw one where both the green and gold were combined!!!!—Yikes) As well as the interesting housing, the area is a bayou.. so lots of long grasses, wet lands and birds. Only trees are palms that have been planted by house owners!
We drove about 20 miles up the road towards Beaumont before turning around and heading back to the ferry for Galveston. After last night's miss on the seafood I'm still keen to find some tasty shrimp so we decided to head to the historic area of Galveston and see if we could find some lunch.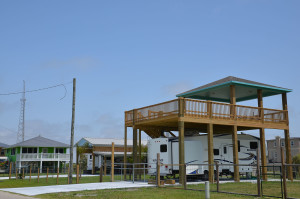 The historic area is everything I had hoped for… Very New Orleans. There is something special about the southern architecture from the mid to late 1800s.. Distinctive and immediately had me smiling. I've said it before and will say it again.. I could so live in the south of the US—bible belt and all! We headed for fisherman's wharf—surely we can find some fresh seafood..
Well we did and we didn't … We ordered the special (seafood and cheese dip with tortillas) which was awesome and I ordered shrimp in buffalo sauce.. The shrimp in buffalo sauce was ok.. not incredible but better than what I had eaten the night before. Back into the historic  district for a bit of shopping before we headed south bound out of Galveston and to the next island.
It was a bit of an interesting trip.. We found a beach where it was flagged "to be aware of alligators" and the cherry on the pie… a pudding house. Seriously, a house that was rounded at the bottom with a tee pee type roof… Looks like a pudding with a top! Only in America
We rounded out our day with dessert (we had lunch really quite late so none of us were hungry).. so we headed to ihop for a pancake + coffee. We did do a detour to the historic pier because it is open tonight!! We didn't actually go on any rides but it was nice to have a look with the lights on and rides actually going (reason we didn't was because it was so damned windy—to the point where you had to shield your eyes).