21-26/5/17
Five days in Jamaica… Aah!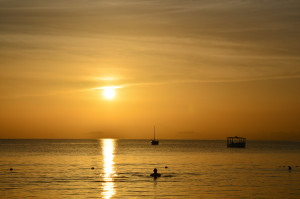 Ok, so I'm writing one big blog on my last day here in Jamaica. It wasn't worth writing one for each day because, well, each day is almost the same.. Get up, Eat Breakfast, Go for a swim, Read Book, Eat Lunch, Drink, Swim, Read, Drink, Eat Dinner, Go to bed
There were some notable differences so the blog isn't going to be one paragraph short. So, lets start at the start and focus on the differences!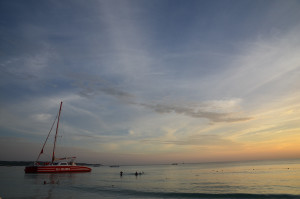 We flew in on the 21st from Houston to Montego Bay in Jamaica. Flight was fairly non-eventful. Most interesting thing was the fact that the on board entertainment was pay as you go. $5 to watch the inflight entertainment!! Food + Drink were also pay as you go (although at least I wasn't surprised I'd need to pay for that). One of my two bags didn't arrive in Jamaica so I had to stuff around filling out declarations etc so that United could send it to my hotel for me.. Customs + Immigration were actually more than I expected- I was expecting a gate and one person but instead found myself in this quite large immigration hall with plenty of booths and the usual endless taped off human cattle pens..
We are staying in Negrill which is a 90min drive south west of Montego Bay, so we jumped in a taxi and took off. First impressions of Jamaica- lots of jungle, mountains, houses are all the concrete besa brick style but with some of those Grecian entry ways that seem to proliferate and really don't look that attractive. Roads, average (although they are all tarmac)- left hand side drive so back to normal. Hot + humid + very green! Green ocean, and green vegetation. Not the cheapest of destinations- everything is in US dollars and is probably similar prices to what we'd pay at home (but in a more exy currency)
Negril itself was a small fishing village that has turned into resort central. 7 miles of white sand beach have helped with coral and fish off shore. We're staying at the Country Country Beach Side Cottages- right on beach and really nice.
Extra curricular activities? Snorkelling- awesome reef fish and coral! Stand up Paddle Boarding—not too hard when there isn't any waves! Massage… hmm… massage. Great and abundant (although not the cheapest).
You can also go horse back riding, parasailing, sunset cruises— although I didn't test any of these out.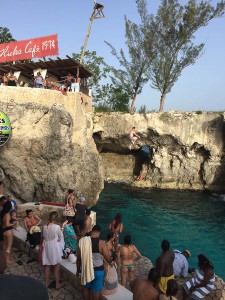 One notable evening we headed to Ricks Café + Bar for the evening. Seriously, amazing view. The bar is built on the cliff side of Negril (there is beach side and cliff side) and is known for its sunset vistas and cliff diving! Plenty of crazies jump off the edge every day into the gorgeously turquoise water. No jumping for me- we enjoyed the sunset and a cold beverage with the other hundred or so people.. Ricks is apparently one of the best beach bars in the world (and it is pretty tops) so pulls a big crowd daily. Dinner was next door at Ivan's which is also perched on the cliff face. Awesome kingfish with escoveitch (the local twist).
Other Jamaican delicacies we've tested- Jerked Chicken (chicken cooked over hot coals that is covered in salt and spices) very good, Shrimp- of course tasty, Also had the conch again- ok but a bit tough. Every meal has been pretty good- although nothing spectacular.. No Michelin stars for any of the meals I've eaten. Views though can not be understated.. All of the bars and restaurants look out over the ocean and when the sun is setting- its pretty spectacular.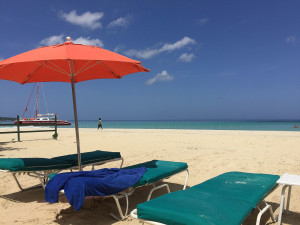 I started out the five days wondering what on earth I would do with myself.. and have found that the five days have flown by and it is now time to jump on the boat to Cuba… Have loved doing nothing but reading and eating… waist line probably hasn't loved it but my brain certainly has! Bring on the Revoluçion, Cigars, Mojitos and Salsa!