28/5/17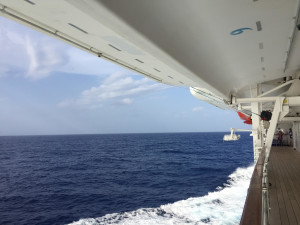 It's going to take us more than a day to reach Havana so today we are out at sea hanging out on the Celestyal Crystal. So I'll take the time to describe the boat.. I think I explained yesterday that the boat has just over 130 passengers on board. The ship normally has three restaurants open but due to "maintenance" which we think is code for, no passengers, there is only one restaurant open. Pool deck has a small swimming pool and is open to the air and is the home to all dance lessons/ Zumba classes/ cooking demos and nearly everything else. Jacuzzi is down on deck 5 along with the outdoors bar for the smokers on board. There is a lounge area which is Bingo central + afternoon classical music/ cocktails.  Disco on the top deck (not that I've made it up to the disco yet), Spa and salon (I got a little pissed off with the staff so they aren't going to get my business), Shop + Main Auditorium for evening performances.
No need to book in or worry about being early "to get a seat" for any activity.. In fact, the poor old entertainment staff are continually trying to round up people to join in the fun! The three of us rocked up for trivia today only to find that we were the only players!!!! We had to battle each other because there no-one else wanted to play!
The highlight of today's activities was no doubt the towel folding.. which I didn't bother to turn up for. I did turn up for the Cha Cha Cha lesson, the cooking class, Bingo (because they couldn't get enough to play) and the afternoon Zumba class.. Lucky I had a snooze or I don't think I would have had the stamina for the full day of activities!!! :/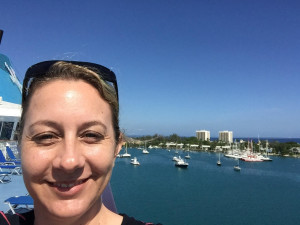 Our next two days are going to be crazy nuts so I need to get all the rest I can in.. Tomorrow all day in Havana and tomorrow night Buena Vista Social Club tribute (which finishes at midnight).. followed by a 6.15am start the following morning for another whole day in Havana!!! Ouchie Mumma! Two big days in the capital of Cuba!!
Time for me to find another cocktail and sit back and read my book….. Havana is calling!!