29/5/17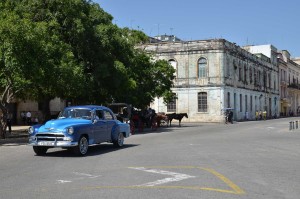 All day today off the ship and hanging out in Havana.. Tough huh?!? Actually, I was a bit put out—you mean I have to organise my day today cruise ship? Nothing planned?!? What the?!? I need to stop at this point and explain that the cruise ship we are on has limited ability to get into the Havana port.. We arrived first thing and we all had to be off the ship by 10am and we couldn't get back on until 6.30pm… Tomorrow even worse, off at 6.15am and not back on until 8.30pm!!! What the? My belief, our cruise company hasn't bribed the port authorities enough!
So after getting my nose a bit out of joint I actually enjoyed my day today… So nice to explore the old town of Havana without a flag lady standing in front of the group- explaining bits and pieces we aren't that interested in. Off the boat about 10am and we started exploring La Habana (the old town of Havana).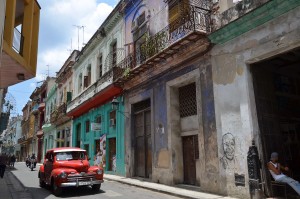 The old town is over 5 square kms and it is all UNESCO listed. Seriously, just like stepping into Prague or Budapest… Gorgeous European looking city with some AMAZING architecture.. At least 50% of the old town has been restored and it is spectacular… the other 50% not so much—that's where you can still see really run down, dirty buildings with electricity cables dangling—reminds you that Cuba is still struggling. The old town is mainly all pedestrian so easy to get around and see the little squares and parks and of course 16th, 17th and 18th C buildings.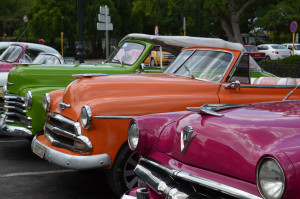 We spent the morning dawdling and gazing at the old 50s cars. Havana is known as a living museum for Detroit in the 50s and I would tend to agree.. In fact, I'd hazard a guess that at least 1 in every 4 cars that you see in the old town is a car from the 50s. Most are lovingly restored (or never deteriorated) and are a riot of colour. Bright greens, blues, reds, oranges and even a pink and white polka dot convertible!! We decided that we would spend our morning walking and our afternoon riding around in a car.
Lunch had been provided at a restaurant in the old town by the cruise so we turned up for our lunch. Lunch was disappointing but edible—it proved more disappointing when we worked out (the following day) that the other tour group from the US who had also eaten at this restaurant was served lobster and we got pork or chicken!
Straight after lunch we went back to the Plaza de Armes and got ourselves a ride in a red convertible. We were fortunate enough to also get a guide who spoke perfect English so we all jumped in the back and were guided around Havana.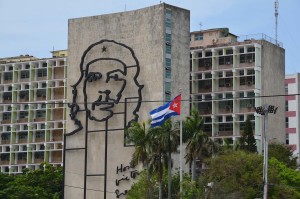 First stop was a drive past the Hotel Floridita (famous bar that was a regular haunt of Hemmingway) down past the capital building (under restoration but looks similar to the US capital building) and to Revolution Square. Revolution Square reminds me of a parking lot, surrounded by buildings that have very iconic sculptures. This square is where you can see "the" picture of Ché Guevara + Camilo Cienfuegos, two of the revolutionaries who died for the cause (so to speak).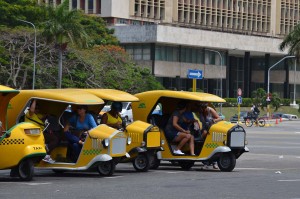 I had to ask a few about the story of Ché Guevara. His face adorns hundreds of posters/ signs/ shirts/ flags that are strewn about the country but he isn't a Cuban! He was born in Argentina and spent most of his adult life fighting for the rights of others in many Central American countries, most notably Cuba. He met Fidel Castro when Castro was in exile in Mexico. They returned to Cuba together on board the Granma (which has its own memorial in Havana) and started fighting Bautista's regime. Ché (or Commandanté) was one of the key generals in Castro's team and once Fidel came to power he became the Minister for Agriculture. He stayed for a number of years whilst the party consolidated power but took off to Bolivia to fight for more freedom where he was killed in action in the mid 60s (probably by the CIA). The rest as they say is history. He is now the face of the revolution and is one of the most famous revolutionaries of the twentieth century. According to our guide he was also quite a looker and so good looks and a revolutionary zeal, equals romantic revolutionary icon!
There are two other figures in Revolutionary Square, one of them is José Marti (the father of Cuba- The general who designed the plan for the over throw of the Spanish regime) and Camilo Cienfuegos who was killed in a plane crash just before Fidel took power. Our guide told us (after we had walked away from all people for fear of the secret police) that the rumour in Cuba is that Fidel had Camilo Cienfuegos killed as he was more popular with the people and would have been more likely to have become the president. With Camilo Cienfuegos out of the way, it was easy for Fidel to become President. Interesting piece of Cuban gossip, not sure how true but spicy!
On the way back to town we went via the new Havana. New Havana was built in the 20s through to the 40s by the American Mafia. Havana became the play ground of the rich and those needing to launder money, so, big hotels, apartment buildings etc were all built. The vision was for Havana to become the new Las Vegas, plenty of gambling, prostitution and drinking.. The vision was soon cut short when Fidel came to power + all buildings in Cuba were confiscated for the Revolution. The Americans (and connected Cubans) all fled back to Miami Florida + Puerto Rico and New Havana was largely deserted. It soon was repurposed as housing for Cuban people, but the hey day of buildings in New Havana was gone.
To top off our afternoon in Havana we went back into the old town to look for some Cuban music and a few cold beverages. We found both on the main street, Obisbo, and spent the remainder of the afternoon enjoying some local Cuban music (Buena Vista style) and a few Bucaneeros (local beer). We got lucky around 3pm because the rain really pelted down and the pub went from being unbearably hot to being pleasantly hot.. wasn't cool but compared to the extreme humidity the rain and breeze was an absolute god send.
Evening finished off the same as most of the others here on the boat, great dinner followed by the on board show, Revolution, a story through dance about the time before and after the revolution for a young couple. Tomorrow we have a 6.15 start and don't finish til 8.30pm so its going to be a looooong day