30/5/17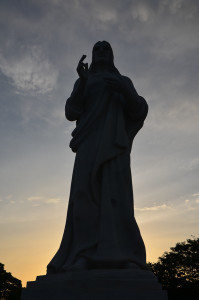 So as I said yesterday, it was likely to be a "hell of a day" as the saying goes.. 6.15 am start and an 8.30pm finish. Yikes!
To start the day we headed off the ship and straight on a bus bound for Havana's El Morro castle. First stop was at the statue of Christ that stands guard over the city of Havana for some really nice dawn photographs of the city.. Yep, 6.15 start means that the sun is coming up! Next stop was at the El Morro castle for some more photographs of the castle in early morning light. In fact, we are here so early that the castle isn't even open for visitors.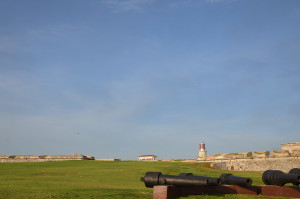 From the castle we headed downtown to begin our walking tour. The walking tour was of old Havana- the same area we had wandered around the day previous. It was nice to actually hear some of the stories of the old town today and would have appreciated the walking tour yesterday. As I said yesterday the old town is really spectacular so we didn't regret the walk around again—just would have appreciated the commentary when we first arrived. Our walking tour took us to the home of the Buena Vista Social Club and via the coffee shop that Hemmingway made famous. Very happy to report that I have had a coffee with Hemmingway!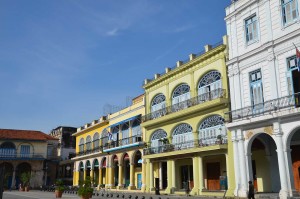 From old Havana we got back on the bus and headed around the outskirts of the old town to see buildings such as the Revolution Museum, the Capital and the Grand Theatre. We had seen most of them the day prior so wasn't anything new but was nice to stop to be able to stop to grab a few photographs.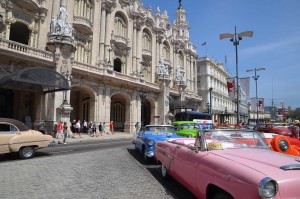 By now it was lunchtime and we had an interesting lunch experience. Yesterday we had eaten lunch at a restaurant in the old town (provided by the ship), you might recall that I spoke about the fact that we didn't get the lobster! Anyway, we decided that we wanted to go somewhere different and two of the Jamaican people travelling with us also thought this could be a good idea, so the bus driver dropped us all off at Hotel Floridita for lunch. Hotel Floridita is a Havana institution. It is "the" bar where Hemmingway drank a copious amount of Daiquiris and made the drink famous. It is also well known for its great Cuban music. Inside the bar it was absolutely PACKED. It is a lovely bar but when you have jammed in at least a hundred people in a pretty small space it can feel a bit claustrophobic. D managed to get to the head waiter to request a table and some drinks.. We ended up with a lot of drinks and no table! In fact, we ended up not paying for our drinks at all as we couldn't get a waiter to give us the bill. The lunch menu looked pretty ordinary so all in all we ditched Floridita and headed out to find somewhere to eat. This is where we came a bit unstuck. I had googled restaurants when we were inside Floridita and came up fairly empty, so finding somewhere was always going to be interesting.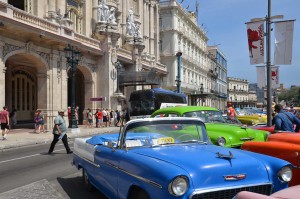 [Side note here, Internet is available in Cuba. It is available in main areas of the city by the Cuban govt at a cost of $4.50 an hour. You need to buy a phone card style thing with a unique code to access but it is available.. Something I was not expecting. It's obvious where internet is available because you will find many Cubans congregating in an area of the city all busily on their smart phones, another unexpected.. Also unexpected, the Internet is open- or at least Facebook and Google are accessible… I didn't try to google anything anti communist or anything like that to see if pages were blocked but most apps seemed to work. Snap Chat was an exception, I later found out it was limited due to bandwidth on the internet not banned from use.]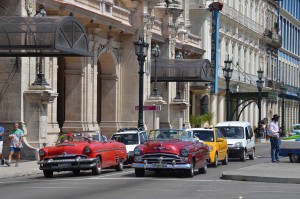 So we left Floridita and started wandering, there were a couple of five star hotels around so we thought it was likely we'd find something in those hotels to eat.. Wrong! We found a guy on the street who spoke great English who directed us to his "mum's restaurant"- we took a look and it looked a bit seedy so we kept walking (at this stage the Jamaican's ditched us and went looking back downtown for lunch). We ended up at another hotel where the front door man said he would take us to an excellent restaurant for lunch. Where did we end up? Mum's restaurant!  By now we were all really hot and over the experience of "finding lunch" so we agreed to eat at Mum's. Oh my goodness.. the food was exceptional! No air cond, but cold beer (bucanneros) and amazing chicken for me and lobster for D. M's was ok but not exceptional. So as the old saying goes, don't judge a book by its cover! I've since found out that most of the best restaurants are houses that have been converted into eateries.. Eateries on a ground floor are govt run, those on upper floors are privately run and tend to be excellent as they charge quite a bit more than the govt run restaurants. Tip for those reading, go for a dodgy looking restaurant up stairs if you have been recommended by a local.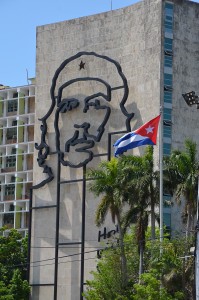 Lunch over and we got back to the bus with time to spare. Our Jamaican friends did not.. turned out later on that they jumped on another bus with one of our American tour groups—also turned out to be significantly better than our tour, more later. From our lunch stop in the Floridita area we headed out to Revolution Square (where we went yesterday on the open car) for more photos of Ché + Camilo Cienfuegos + more ogling of the old style cars—all tours lead to Revolution Square!
The afternoon then became tedious (remember we couldn't get back on the ship until 8.30pm).. first we stopped at a bar called 1830 for a Mojito. Interesting bar that had some sort of kids/ adult playground out the back. The owner had built these grottos + lookouts out of rock and coral. Truly strange but at least it stretched the legs. Next stop was a drive around New Havana and a stop at some random park to look at fig trees.. hmmm.. then a very tedious drive out of Havana to some farm. The farm was lovely but not what I expected. What we saw where some nicely manicured gardens (full of fruit trees) and another Mojito.. Not what I had expected and an utter time waster.. We spent a whole hour doing nothing on this farm but kill time.. hmmmmmmm.. the drive to and from the farm (including the one hour wasted) killed 3 of the 14 hrs and did enable me to read some of my book. All in all, would rather have spent my afternoon at the Revolution museum, out at Hemmingway's house or shopping at the craft market (that was closed yesterday when we tried to go). As I found out when I got back on the boat (from the Jamaican's) this is exactly what our American colleagues got to do.. I have no idea why but our tour + cruise is different.. I can only hope that we paid significantly less for the lack of activities. The silver lining, next time I come back to Havana there is plenty in Havana that I haven't seen or done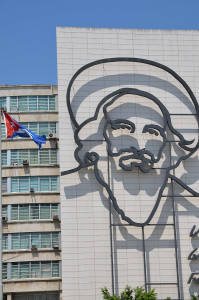 Back on board, a shower and dinner and straight to bed.