1/6/17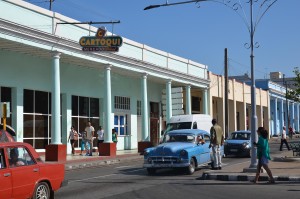 Last day and the best day in Cuba today in Cienfeugos. It's a town that I wasn't super excited to see as it was hardly mentioned in the guide book but it ended up being the best tour of the lot and a really fun last day on board the cruise.
The town itself is quite small and is actually of French origin so had some differing architecture. Our guide today elaborated on more of the Cuban way of life so we not only got the chance to see some more great buildings but hear a lot more about Cuban living. In particular, she spent time explaining the differences between govt run and privately run stores. We went into one of the govt run stores.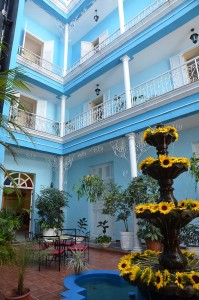 Very similar to what I can imagine stores in AU would have been like back in the 1920s or 30s. One big room divided up into little stations? Each station had a counter and a display and each station was dedicated to a different type of purchase. For example the first station was the shoe and work wear station. Lots of white shirts in differing sizes all same cut for sale, pairs of blue shoes (differing sizes same design) etc. Not much choice but certainly cheap.. The pair of blue shoes (plastic patent leather looking flats) were for sale for less than $5. Another station sold crappy looking plastic toys, another some sort of electrical parts, and a large section dedicated to sewing- material and thread. Again not lots of choice but cheap. We also found out that we couldn't use our CUC to buy anything in the govt owned shop. These stores only accept the CUP (25 pesos to a CUC) and the stock is heavily subsidised by the govt so that everyone can buy the basics.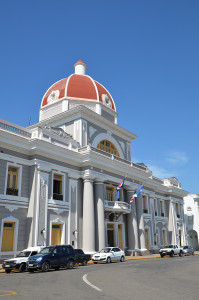 The town itself had a really nice pedestrian boulevard which ran from the main street right down to the water front and was filled with stores, restaurants and souvenir stores. After some free time to wander around and purchase souvenirs (finally found my wall o' tack item) our guide took us into the theatre. The theatre was built in the late 1800s and is still a working theatre. It is still completely original and is really spectacular looking inside. Even has the tiers and small boxes around the sides of the theatre. For Cubans it costs 10 CUP for them to attend no matter who is playing and tickets can be purchased at the box office. For foreigners it is 10 CUC (remember that roughly 1 CUC= $1USD and 10 CUP is probably about 40c). So significantly cheaper for locals but still not very exy for tourists. Seats are allocated on a first come first served basis so apparently you need to get to the theatre early if you want a decent seat.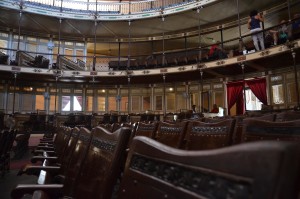 Our last two stops of the day was to the millionaires area. There are some significantly large palaces in Cienfuegos and we got to see two of them. 1 being a miss mash of Moorish + Louis XIV and the other being the yacht club. Built in the late 1800s it was a seriously large building. All in white with spectacularly manicured lawns.. it looks as good today as it probably did when the yacht club was the haunt of the rich and famous in the 50s. Surprisingly, the yacht club still has yachts parked in the marina.. no idea who owns them but considering I thought we'd see none.. quite surprising. The yacht club served us the obligatory mojito and we did more salsa dancing before we got on the tender boat and headed back to the ship.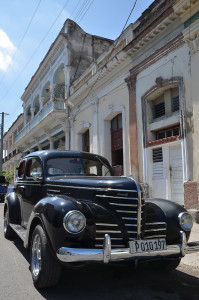 Awesome afternoon of doing not much, except more dance lessons + riding the surge. Really an excellent way to end our trip here in Cuba.. great city Cienfeugos and great relaxing afternoon of swimming, dancing and drinking!

Tomorrow we start the long trip home- Jamaica to Houston to LA to Melbourne to Sydney… Yikes!